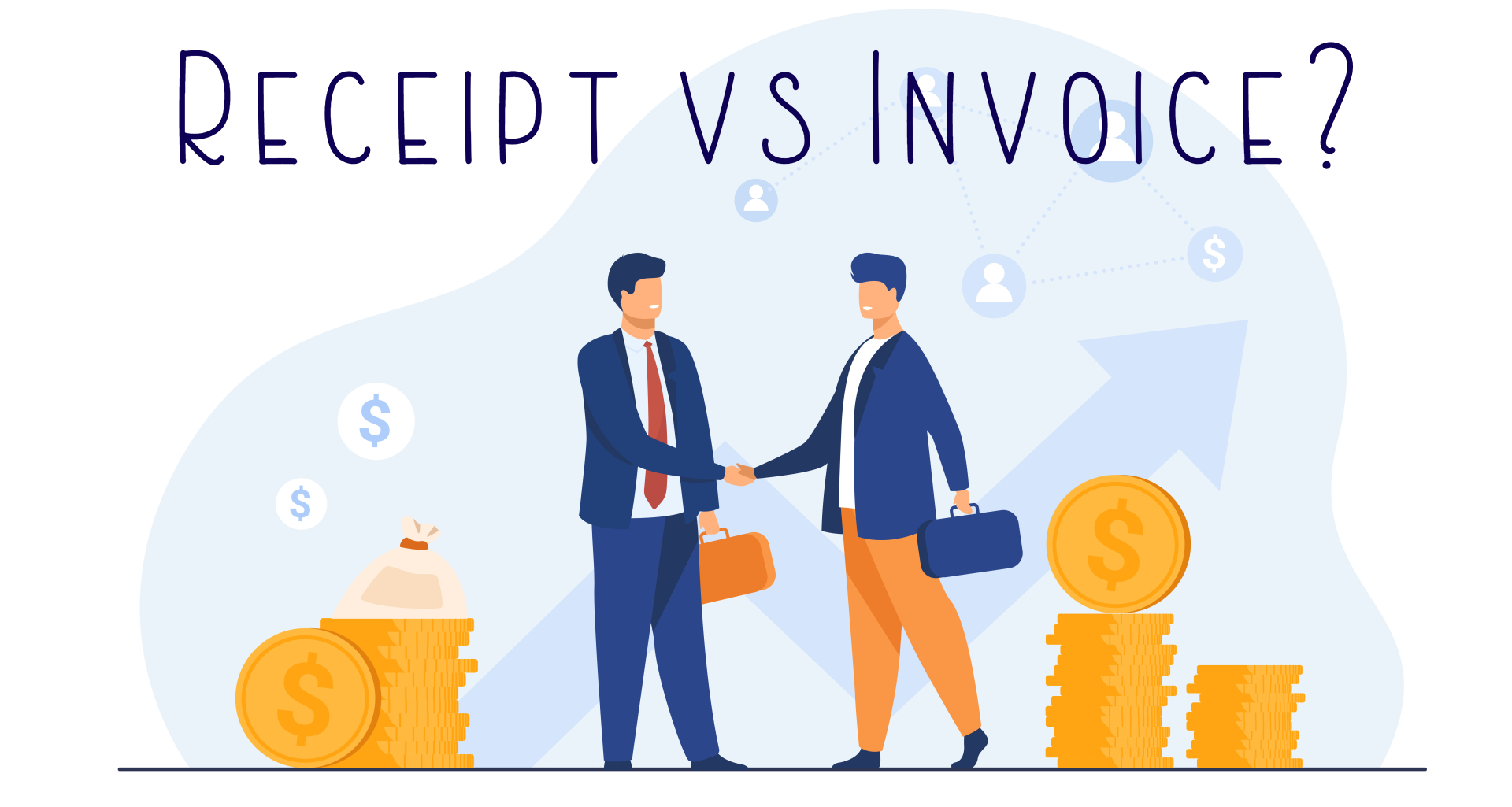 Receipt vs Invoice
Receipt vs Invoice, what is the difference?
Let take a closer look at the main differences between an invoice and the receipt. In this article you will see a comparison of these 2 documents and you will understand the difference. In the previous article, we briefly described what an invoice is and in what cases members of a trading relationship create it. But an invoice is not the only document that takes part in the vendor-purchaser relationship. There are a number of different documents, one of which is a receipt. We will describe all the stages of a particular business deal so that you can understand the difference between these documents. Let's imagine that you are a buyer and buy some goods or services and you have some seller who want to sell you some goods or services. At this point, a document such as an invoice will come in handy. In the invoice which you get from seller you will see such information like: seller information, buyer information, date of the invoice, description of the product or service, price, taxes and total amount. When you get this document, you will make a payment for this invoice. After seller will receive your payment, you may ask you for a receipt as confirmation to both parties of the transaction that the money was received by seller. At this point, it is necessary to get a receipt for prove of successful payment.
What is a receipt?
A receipt is a document that you get to prove that you have paid for your goods. This little piece of paper, whether it be a till slip or a handwritten note is very similar to an invoice but is not quite the same. You get a receipt when you go buy anything at the grocery store or the hardware store. These "till slips" show that you have paid for your purchase and often is used to check your items at the door. Also, the type of receipt depends on whether it is written in the online system (online receipt) or at the cash desk (paper receipt). But they mean the same thing, when you see the receipt it means you already purchase something.
What is a payment receipt?
Well, that is exactly what we should not get when you make purchases on behalf of the company, we should get invoices. Of course, often you get an invoice and a receipt for your purchase as you need these for your accountant to properly file a business tax return.
A payment receipt is just that, a receipt for your payment. These slips don't always have the details of your purchase listed on them but rather just your payment and the tax charged for the transaction. These slips just prove that you paid. That is the major difference between an invoice and a receipt.
Table Comparison of difference between an invoice and receipt

Also this two documents are commercial, both is used in purchase action cycle, both documents purchaser get from vendor.
How can I make my first receipt?
It's very easy if you need quickly to make new receipt for your customer. Invoicy team prepared free web page for users, who need to create receipt. You can try our receipt generator and start to create different professional documents. You will need to choose one of template, add logo, choose color of you document and add information about vendor and purchaser: billing address, email, phone, item, description, prices.
Note to Self
Always make sure that you have both a receipt for your payment and an invoice for your purchase when you are buying anything for your business or yourself, it will save you so much in the long run. Invoice for accountant and receipt for payment that is how we remember them.
Check out these posts
Ready to get started with Invoicy?
Start right now with a FREE plan, no credit card details required.
Start for Free