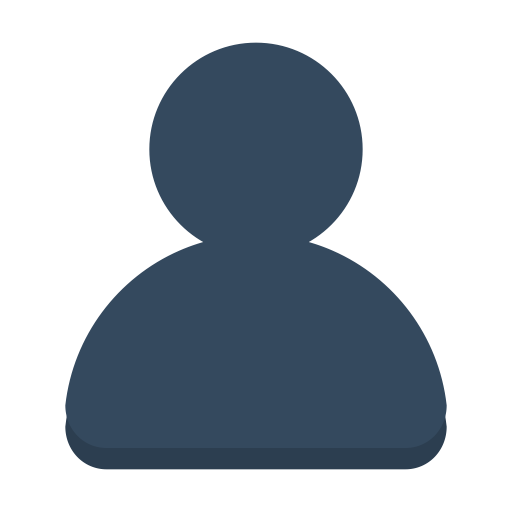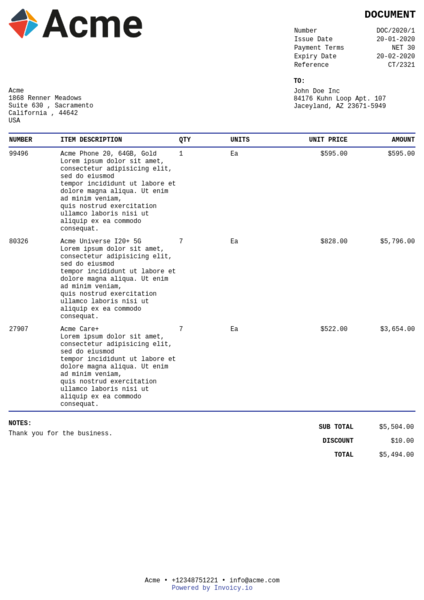 USD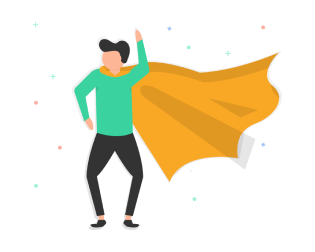 Try Invoicy Today
You can get started right now, for free without a credit card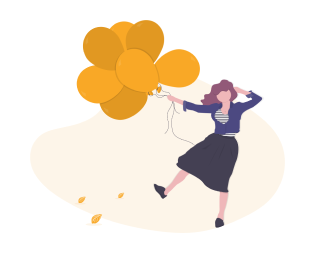 Invoice maker
Why an invoice is essential for business operations? 
 To get started, you need to understand what an invoice is used for and why it is important in business transactions and business finances. An invoice is a document provided by the seller to the buyer containing a list of goods and services, their quantity, price, at which they were delivered to the buyer, formal features of the products (color, weight, etc.), terms of delivery, and information about the sender and the recipient. An invoice can be created and executed both on paper and online. To prevent fraud, the invoice is also stamped and signed. Using this invoice generator tool you can quickly create, save or download the professional invoice.
What information must be provided on the invoice while using our free invoice maker and how to create an invoice? 
 First of all, when you create an invoice, the following fields must be filled in the invoice generator:
- From: This field should be filled in with the information about the seller, the name of the person or organization
- To: In this field, you must fill in the name of customer information
- Address: The registered address of the seller and the buyer (postal address)
- Email: the email address of the seller and the buyer in case if you need to send this document from the invoice maker using the email form
- Phone: Leave your contact number so the buyer could immediately get in touch with you
- Number: Your unique document number used for future invoice searching while using the invoice maker system
- Payment Terms (Issue Date/Due Date): Terms of your invoice and offer validity (between the Issue date and Due date)
- Invoice number: Unique invoice number for a quick search by number.

Product, description and price, the next important step in the creation of a free invoice
In invoice maker, you need to fill in the detailed information about the product or service you want to sell, so your customers could easily understand what they are paying for in your invoice. Let's start creating your first invoice using our online invoice maker:
- Item and Description: Information about the product or service name that your company are selling to the customer
- Qty: Sales quantity
- Unit Price: Price per 1 unit
- Amount: Total amount of all units per 1 row
Below in invoice maker, you will see an automatic calculation of the total amount of your free invoice which will be included a sum of amount, tax, discount.


What additional features does the free invoice maker have?
We did not miss the opportunity to add as many features as possible to our invoice maker. Our free invoice generator has a few basic features that you can use while creating your free invoice:
- Business Logo: You can add your business logo to your invoice template and be sure that your invoice will not be confused with anyone else's
- Currency: You can choose any currency from our currency list
- Tax: You can add several different tax to your free invoice.
- Discounts: Everyone knows that discounts are the best way to show loyalty to your customers, we highly recommend using this feature in invoices.
- Notes: You can add to this section any notes that are important for your invoice, get paid quickly (company bank details and other important information)
Main benefits of using an invoice maker vs invoice template
In addition to a maximum set of basic features that you can use in your invoice generator, we have also prepared some free online invoice templates. With these invoice templates, you can:
- Choose 1 from 3 templates in the PDF format
- Add your own brand logo and make your online invoice more professional
- Choose a colour scheme that suits your brand corporate colours
- Create and send an invoice in seconds via email
- Download PDF invoice template to your directory
You don't need to waste your time manually editing invoice templates in Excel or Word, delete or add line items, invoice details, tax. An online invoice will be more customizable and professionally designed. You only need to start using this tool free invoice generator and get paid faster. If we don't meet your requirements, we can always provide you with different alternatives for online invoice creation.
Isn't the free invoice generator enough for you? Invoicy will make invoices for you while you do other important things
In today's business, owners need to automate processes to go to a new level. But at the same time, relationships with clients, at least in medium and small businesses, for some reason very often are conducted without the introduction of automation and sufficient attention to invoicing. What happens if the company works without an online invoice system? Each sales manager works the way he feels most comfortable, generate a new invoice, and other types of interaction with customers at his own discretion: some on paper, some in Excel or PDF spreadsheets, and some do not consider it necessary to record the process of their work. The way out of this situation is to automate and standardize the accounting of sales and customer accounts, i.e. the introduction of a new invoice system. The main benefits you will get for free without a credit card:
Simple and Professional Dashboard
All relevant company details in one window (Total sales, Overdue Invoices, Unpaid Invoices, Customer, Expenses, Payments, Items).
List of Customers
The informative table where will be stored all the history of your business customers, the name of the contact person, phone, invoices, payments. It will save you time if you want to find some details quickly. Also, directly from a customer card you can make and send invoices.
List of Estimates
A list of estimate templates with statuses. You can quickly sort which offers have been rejected, which have been sent, and which have already been converted to an invoice.
List of Invoices
List of invoices with payment statuses: Partially paid, Paid, Overdue. All new invoices you can generate and save in PDF or easily send to your client via our email form. Also, you can get payments online using automatically payment gateway (can accept credit cards) and get paid faster.
Expenses
List of expenses with line item which includes details of the expense of your business. Also, you can add a history of your purchase order numbers.
Business Settings
You can save information about your company in minutes, add a logo, choose invoice pdf template, payment pdf template, set up payment terms, add new tax rate and make invitations. Also, you need to fill in your business name and invoice reminders.
The online invoice generator will allow you to forget about paper invoices, always have at your fingertips the entire history of sales to the client, receive payments online and quickly.
Try Invoicy Today
You can get started right now, for free without a credit card.
Get Started for Free
Kate Hansen story and why she uses our invoicing software
I am a designer and I needed to invoice my clients. After searching, I found a great solution for my business - the online invoicing software Invoicy. Overall, it's changed my life. As a sole proprietor, I don't have time to do lots of accounting. I absolutely love this software and find the price to be entirely reasonable given all the things it does for me. I can create free beautiful templates, send invoice to the client and accept credit cards payment (The system has the ability to connect an account Paypal or Stripe, track payment status). The status is updated automatically and I get a notification in the mail, it is very convenient.
Frequently Asked Questions about invoice generator
Q: Can I choose different invoices templates and preview them?
A: Yes, you can change the invoice template and preview it. You need to choose a template in the drop-down list and click the "Preview" button.
Q: Can I add a logo and choose the color of the invoice?
A: You can add a logo in the preferable format and drag and drop it at the top right. You can customize the colours below.
Q: Can I change the currency of the invoice?
A: Yes, you can select the currency from the list and choose between symbol or code. For example, U.S. Dollars can be USD – code or $ - symbol.
Q: Can I add a tax and discount?
A: Yes. Below the currency list, you can see the Taxes and Discounts. You can create your own tax name and set it in %. The discounts can be set on the total amount or per each item in %.
Q: It is possible to save the details of my company?
A: No. If you close the window with your details, all details of the invoice will be lost. If you need to save the details of your company information, company logo, phone number, invoice payment terms, and other elements you need to use invoicing software.
Q: Is this invoice maker free?
A: This invoice creator tool is free for the first 5 invoices.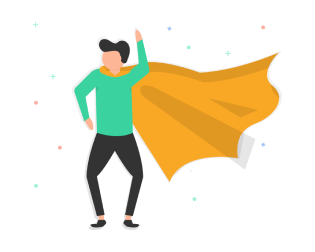 Try Invoicy Today
You can get started right now, for free without a credit card